Lego Minifigures Series 16 – Parts Details and Feel Guide
After the pre-release in the US, they appear now already in some european toy stores too, being finally released in early September: The new Minifigure Collector Series 16.
Adult Fans of Lego will rush toy stores with only one goal: collect them all (btw, is Pokemon Go still a thing?).
The tricky thing – as we all know – about the minifigures is the fact that they are sold in mystery bags. All look the same, so actually you don´t know what you get. But with a little patience and experience you can feel the bags and find out what´s in it, especially when you have a detailed list of the content and you know what to look for.
I was lucky and found a toy store yesterday that already had some bags for sale, so I started feeling through them, earning some strange views from mothers that were really surprised about what I was doing. It took me about half an hour and I got exactly what I was looking for: one complete set of 16 minifigs plus two extra Mariachis, because I need "The Three Amigos"
I would like to share my experience and give you a guide to feel the content, on the pictures below you see all the parts that are in each bag. Of course, there is also the 4×3 stand and a collector´s leaflet with it too.
Lego Minifigures Series 16

Flickr Album Gallery Powered By:
Weblizar
Personally, I think that in this series it is rather easy to feel the content. There are a lot of unique parts with only a little chance to be mistaken, like the Mariachi´s hat, the Banana costume or the Ice Queen´s dress (in this series she is the only figure with a slope brick). Both the Hiker and the Scallywag Pirate have a 2×2 studless printed brick but can easily be told apart by the backpack. Also, the Female Cyborg and the Spy feel similar on the first guess, both contain a gun. Look for the cyborg´s armour to tell the difference. If you can identify short legs in a bag, it´s easy to find out if it´s the Penguin Boy (wings instead of arms) or the Cute Little Devil who comes with a lot of accesories. The Rogue´s hood may be mistaken for the Wildlife Photographer´s anorak, but bow and arrow are easy to feel while the latter comes with a penguin and camera (it´s also the only bag that´s contain a flat round 1×1 brick). The Kickboxers hairpiece is recognizable, note that the boxing gloves are already attached to the arms. There also comes a black 1×1 round brick in that bag (to hold the helmet), don´t confuse it with the baby´s bottle from the babysitter. The Spooky Boy´s spider (soft legs), the Desert Warrior´s scimitar and the dog with the trophy are not too hard to feel, too. All in all, I really like that series and every minifigure of it. I haven´t chosen my favourite yet, but i guess that I´ll use the Mariachi, the Spy and the Hiker the most to shoot some pictures for my Instagram.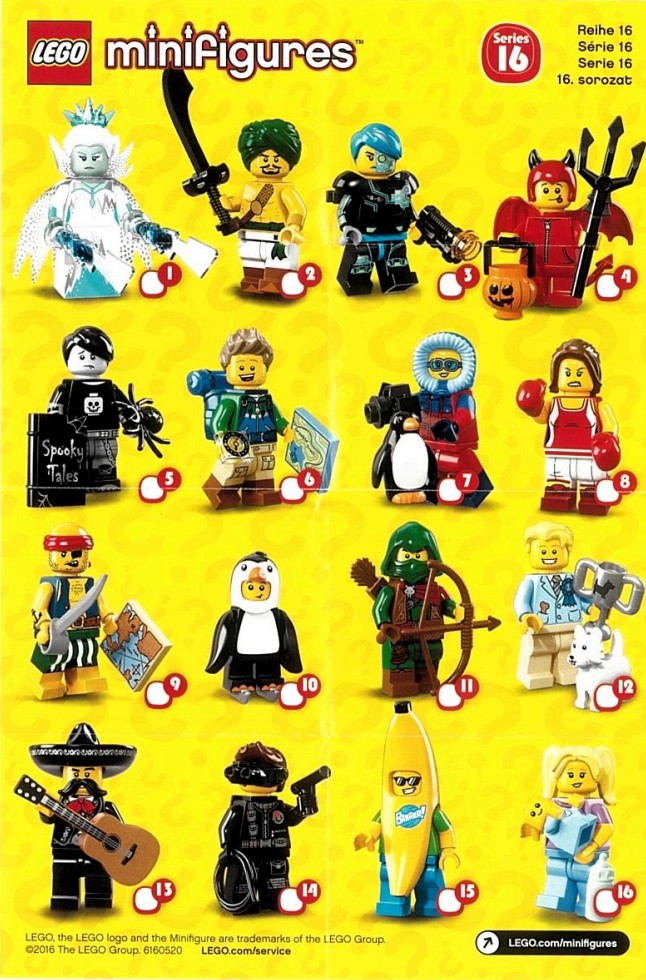 Feel free to download and print the collector´s leaflet before heading to the Lego salesman of your trust, so you don´t miss anything. Of course you could also order the minifigs online, but Amazon has not listed them yet, and on other pages like ebay prices are between 4 and 8 Euro per minifigure, which makes it absolutely absurd to order there, as prices will drop in a few days when the Minifigures are on sale everywhere.
I would be happy if you like and share this post, and don´t forget to comment if you see anything that I coul have done better.

SHARE THIS ARTICLE NOW IN YOUR FAVOURITE SOCIAL NETWORKS